Welcome Home!
As God's children, you go nowhere by accident. Wherever
you go, God is sending you. Wherever you are, God has put
you there. He has a purpose in your being there. Christ, who
indwells you, has something He wants to do through you, where
you are. Believe this and go in His grace and love and power.
R. Halverson (Adapted)
May the grace of Christ, our Savior, and the love of God,
our Father, and the fellowship of the Spirit be with us.
Forever, and ever, forevermore. Amen.
FIND US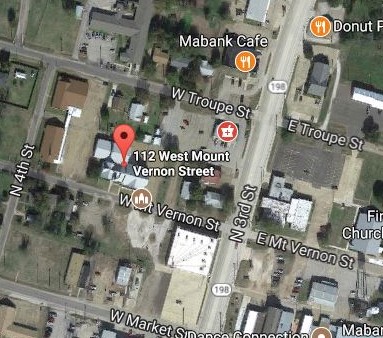 Located in Downtown Mabank, Texas;
north of Gun Barrel City and south
of Highway 175

First Presbyterian Church of Mabank
112 W Mt Vernon Street
Mabank, Texas 75147
CHURCH UPDATES
JOIN US-
Via FACEBOOK
www.facebook.com/FPCMabank
Wednesday's:
Bible Study w/ Pastor Zoltán
@ 12:00pm
Sunday's:
Sunday Worship
9:00AM to 10:00AM
3/20/2020
Dear Brothers and Sisters,
Regretfully, but in compliance with church and state authorities, to protect the health and well-being of our members and visitors, due to the CoVID-19 pandemic,



First Presbyterian Church of Mabank SUSPENDS ALL SERVICES & ACTIVITIES until further notice.



We encourage you all to keep communication alive via email, phone calls and all other means, especially if you need help or assistance! Please, stay at home, and only leave the safety and comfort of your home if it's absolutely necessary!
Stay strong, be safe, and keep the infected and health professionals in your prayers!

"Go, my people, enter your rooms and shut the doors behind you. Hide yourselves for a little while until his wrath passes by." Isaiah 26:20

In Christ
Pastor Zoltán
WHO WE ARE
Affiliated with the Presbyterian Church (U.S.A.) as part of the Grace Presbytery, we seek to offer a dynamic worship experience, with exciting music and messages for modern living. We generally follow a traditional service format, our main goal being to worship and exalt the Lord God.