Welcome Home!
As God's children, you go nowhere by accident. Wherever
you go, God is sending you. Wherever you are, God has put
you there. He has a purpose in your being there. Christ, who
indwells you, has something He wants to do through you, where
you are. Believe this and go in His grace and love and power.
R. Halverson (Adapted)
May the grace of Christ, our Savior, and the love of God,
our Father, and the fellowship of the Spirit be with us.
Forever, and ever, forevermore. Amen.
FIND US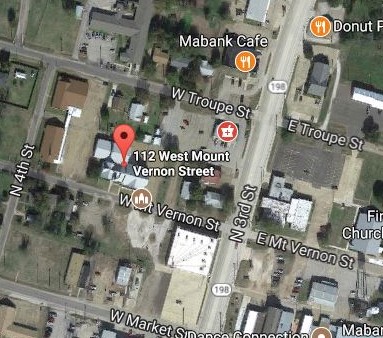 Located in Downtown Mabank, Texas;
north of Gun Barrel City and south
of Highway 175

First Presbyterian Church of Mabank
112 W Mt Vernon Street
Mabank, Texas 75147
CHURCH UPDATES
JOIN US-
on FACEBOOK
www.facebook.com/FPCMabank
Sunday:
Sunday Worship
@9:00am
Wednesday:
Bible Study @ 10:00am
Sunday Brunch suspended until further notice.
We have resumed in person activities @ FPC Mabank!!!
Everyone is welcome to attend any or all activities (Busy Bees, Mission Action, Bible Studies, Worship Services, Etc.), but everyone is required to wear a mask or face covering & maintain physical distancing.
Lets keep ourselves and each other safe!

WHO WE ARE:
Affiliated with the Presbyterian Church (U.S.A.) as part of the Grace Presbytery, we offer traditional worship with relevant messages that we hope will bring you into closer relationship with God and help you find your way in our world. If you are looking for a place to worship, gather in fellowship and serve our community while giving glory to God, you have found it! Come check us out! Our congregation welcomes and accepts all children of God. Welcome home!