History of our Church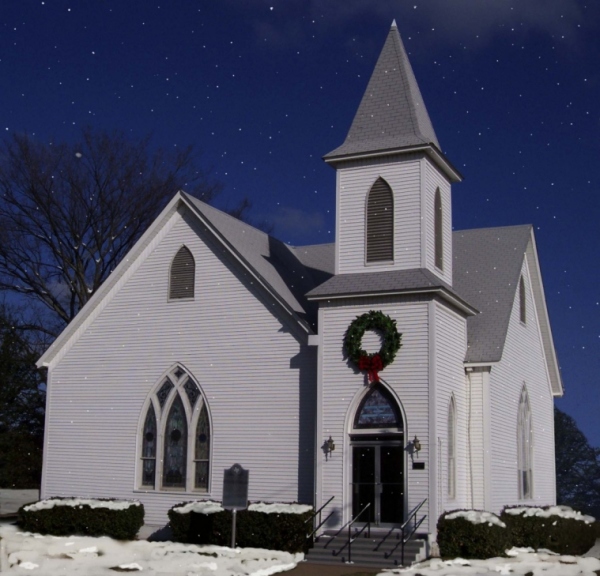 Picture of our Original Church
On September 11, 1896, in the tiny community of Lawndale, Texas, the Rev. W.E. Graham, two elders, and eleven charter members organized one of the first Presbyterian churches in the north Texas area.

In 1900, when it became clear that a railroad would be coming to a community a mile and a half away, that congregation took a courageous step. It moved! The town of Mabank was born, and after surmounting many challenges, ten same members built a new church, First Presbyterian Church of Mabank, in 1903.

In 2004, 101 years later, the membership of this faithful congregation voted to step out in faith and build a new sanctuary addition to the church. Actual construction began in September, 2008, and was completed in March 2009.

"Preserving the Past, Creating the Future" has been the guiding principle in the choice of design and furnishings, and the goal was always to "honor the old sanctuary and to recreate its spirit in the new."

The beautiful stained glass windows, which date back to 1903, set the tone for the entire sanctuary. They were removed from the old sanctuary, stored, cleaned, and then replaced in the new with great care.

Six meaningful symbols, each set in a circle within the windows, have been replicated in six large panels that grace the chancel wall. Designed by Mary Ann Odom, the panels were drawn and painted by her, Kathy Cryer, and Geneice Morris, and stained by Bill Brown, all members of this congregation.

Four dedications were added to the small windows in 2009. They honor Mary Helen Myrick, a lifelong member and guiding spirit; past and present Presbyterian Women; the Rev. Joe Dwinnell, beloved pastor from 1989 to 2000; and our previous pastor, Dr. Ron Holloman, who blessed us with his ministry.

As we sought to preserve the past, several pieces of furniture were refinished and continue to be used. The stand which holds our guest book was the first pulpit, and the handmade pulpit used for years in the old sanctuary now serves as the liturgist's lectern. The wainscoting, the style of the new pews, the interior color scheme taken from the colors of the window, and the baptismal font have all been lovingly chosen to reflect the harmony between the old and the new. In addition, four of the century-old pews from the old sanctuary as well as the two "pastor's chairs" from the 40's have been restored and are in the entryway and the narthex. Over the last thirty years the pastors have used a small pew, which is now located at the rear of the sanctuary.

The chancel cross, made by a church member, is also from cypress, honoring again the rich heritage of our past, which has been blessed by our Savior.

Above the entrance to the narthex are the words "Welcome Home!" As we leave the sanctuary, the words of the closing benediction remind us that we "go nowhere by accident." Commissioned by the Presbyterian Women, local artist Bob Coffey lettered these pieces on some of the original cypress boards that were removed during construction.


Article written by a member who created a painting of our Church.

Welcome Home

The painting entitled "Welcome Home" was inspired by my own little church, First Presbyterian, USA in Mabank, TX formerly known as Cumberland Presbyterian Church. The painting is a 16in. by 20in. oil on canvas. Photos were taken of the church before a new sanctuary was added. I envisioned the little church surrounded by a patchwork of bluebonnets and other wild flowers with a path leading to the front door welcoming the people home.

The Cumberland Presbyterian Church was organized in the Lawndale community by Rev. W.E. Graham in 1886. There were eleven members and two elders. A short time later the town of Mabank was organized and a new sanctuary was erected at the present site of 104 West Mount Vernon St. in 1903. This was accomplished under the leadership of Rev. N.P. Patterson and the entire congregation moved from Lawndale. However, Lawndale did not survive the by-passing of the railroad and Mabank flourished. In 1906 the Cumberland Presbyterian Church united with Presbyterian Church, USA and became the First Presbyterian Church, USA and is considered the oldest church in Mabank, TX.

The earliest women's organization was the Women's Presbyterian Aid Society, better known as the "Busy Bees". The women did all sorts of chores to make money to help with building the sanctuary. Today, after a hundred plus years, the tradition carries on. The "Busy Bees" are still creating ways and means to benefit the church and its various ministries.
When my husband and I attended our first service in the church, Dr. Ron Holloman, Pastor, dressed in a beautiful white robe, opened his arms wide to the congregation and began by saying, "Welcome Home". While sitting in the old original pews and smelling the history I could feel the ones who had worshipped in days gone by. When I looked at the beautiful stained glass windows that were bought through the efforts of those women who came before me, I wondered what sacrifices they had to make to beautify the place where I now worship in the twenty first century.
From 1903 until now, the First Presbyterian Church, USA of Mabank, TX has been a patchwork of welcome for who so ever will come. Therefore, my painting actually named itself, "Welcome Home".

Sarah "Geneice" Morris

Sarah Maples Chapter 6-182-TX….. Mabank, TX


The symbols of the wheat and the grapes, representing the bread and the wine, are not only the panels closest to the Communion table but are also found on a painted border and in the light fixture at the entrance at the church.
The three window symbols unique to this church are the beehive, the falling tree, and the bluebonnets.




The history of the beehive goes back to 1903, when the church did not have enough money to pay for the last load of cypress wood to finish the building. The ladies of the church sprang into action and sold chickens, eggs, baked goods, jams, and whatever they could to raise the money. The "Busy Bees" of the 1900's continue even today.




The falling cypress tree represents not only the wood used to build the church but also the first "son" to fall in war.




The circle where the bluebonnets are now may at one time have depicted a flame, but over time the image became so faded as to be indistinguishable. In the 1980's Pastor Joe Dwinnell, who loved flowers, asked church member Dwight Burcham to paint the Texas bluebonnet. Dwight was well known locally for his marvelous bluebonnet oil paintings, and in 2006 he was asked to restore the window as it is today.